Pipeline Management is a critical exercise with which many organizations struggle. High-growth companies with consistent and disciplined pipeline management outperform their competition by 1.5x. If you missed your number this quarter, an actionable strategy to take now is to apply strategic focus on current pipeline opportunities. CEOs and commercial leaders are involving their sales teams and counterparts in Marketing, Product, Business Development, and Pricing to proactively get a foothold on weak areas and holistically solve for potential challenges with existing opportunities.
When you've missed your number, the second of five actionable strategies SBI recommends to avoid another tough quarter is to apply strategic focus on the current pipeline. To apply this focus, one of the most successful processes revenue leaders can implement is establishing a Deal Review Desk.
#2 - Focus on Current Pipeline - Consider Establishing a Deal Review Desk
When you've recently missed a target, fully capitalizing on pipeline in the current forecast period becomes that much more critical. With a Deal Review Desk process, you ensure the success of current opportunities in the pipeline by leveraging the entire commercial team and other internal stakeholders. Insights from the team will help identify ways to advance and successfully close opportunities.
What is a Deal Review Desk?
A Deal Review Desk is a centralized, cross-functional team that orchestrates complex and high-value opportunities through the sales process. It's an opportunity for sellers, sales leaders, and leadership to use consistent stage definitions for pipeline management and forecasting accuracy.
What is the purpose of the Deal Desk?
The Deal Review Desk allows senior sales leaders and other internal stakeholders to provide input on the proposed solution and ensures a consistent approach to managing the risks and profitability of your largest, most complex opportunities. The Deal Review Desk can speed up deal velocity and focus on improving the buyer's journey. It's best to clearly define the role of the Deal Review Desk as an advisor to the seller or a team who takes over the sale to close.
A Deal Review Desk is created not to introduce red tape or a bottleneck but a more effective and efficient process meant to help accelerate growth targets and improve the buying journey. Invite your sales reps to be part of the creation of this process and collect feedback from your customers, and your Deal Review Desk can be a powerful tool to assist in closing opportunities that can make or break your quarter and year.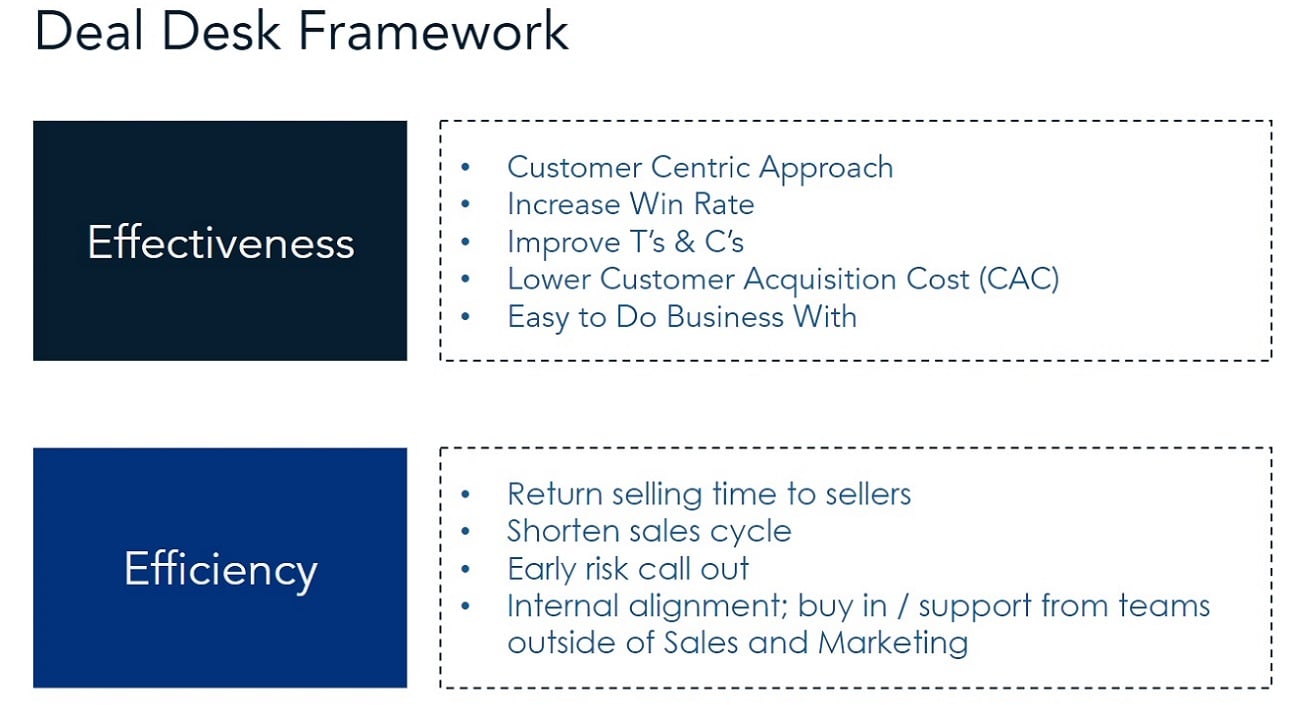 Consider these four critical elements to build a successful Deal Review Desk process:
Deal Requirements

– Not all opportunities require a review. To start, deal size, complexity, or at-risk accounts might be criteria for deals to go to the review desk. Consider the deal value threshold or specific level of complexity or risk required for the Deal Review Desk to ensure your team remains focused on the most critical opportunities. Consider the current customer opportunity and what the customer might look like in a future state. Think about the cross-functional impact on Product, Customer Success, or Service Teams.
Frequency

– To be successful, the Deal Review Desk process must happen regularly. Establishing a consistent cadence and agenda gives your sellers ample chances to review critical opportunities and allows your team to build the process "muscle" for efficient and effective review sessions.
Membership

– Depending on your organization, asking specific internal stakeholders to be standing participants in your Deal Review Desk may be beneficial. In addition to senior sales leaders and the account executives responsible for the opportunity, consider vendors or other internal partners that may have relationships with decision-makers at top accounts. Think about and identify who owns the Deal Review Desk, who executes the process, and who should be informed of the insights.

It may be a full-time job or a collective responsibility within a team.
Win Strategy

– Does your team use a standard framework to evaluate late-stage opportunities and strategize the proper motions for success? Consider using a "win strategy" job aid that documents critical elements for deal reviews such as a SWOT analysis or a contact list of members of the buying decision team (BDT). Ensure you include a list of follow-up actions with clear activity owners and due dates.
Not every company requires a Deal Review Desk. However, if you find yourself pulling a group of people to discuss more significant or complex deals, you have already started the process, which should be formalized.
To find tools and resources on how to create or streamline your Deal Review Desk process, click here.