Commercial leaders have been introducing sales technology for years in an effort to boost seller productivity and efficiency. However, with the pandemic accelerating Sales' digital transformation, vendors have accelerated the pace of introducing new sales tools and technologies, creating a complex landscape for sales leaders to navigate. Specifically, Smart Selling Tools cites that $1.5B was invested in sales software companies in just the first months of 2021, and from 2020 to late 2021, the number of sales software solutions available to B2B sales organizations increased from 976 to nearly 1200.
With this sustained activity and innovation, SBI often takes questions centered on where and how salestech is deployed most impactfully, partnering with clients to address the following types of questions –and many more:
In which tools should we invest to improve commercial outcomes?
Is our company ready to revamp our processes and the tools that support them?
How effectively are we using the tools we have? How well do they integrate with new tools we are introducing?
How do we improve our change management / enablement processes?
Whether you are just getting started on your salestech roadmap or are critically evaluating the tools you have in place as you prepare for 2022, SBI suggests three key actions:
Step One: Isolate the tools with the greatest potential to impact your organization's selling effectiveness.
Like many complex questions, the answer to what we should have in our SalesTech stack is "it depends." Your sales environment is unique. Sales software solutions are designed to solve specific problems, so it's important to first consider the defining characteristics of your sales environment.
Here are a few examples:
What kind of a sales model do you have? Do you have a high-velocity sales model that is more transactional in nature, or do you have a more complex sales process that involves multiple decision-makers and longer decision cycles?
What are you selling? Do you have products that need to be configured with multiple SKUs, or does the product complexity require a subject matter expert or sales engineer to translate technical specifications into customer value?
How many sellers do you have? Has your team grown to the point where it's difficult to optimize territory assignments and administer sales compensation programs using spreadsheets?
What coverage models do you use? Are your sellers in the field? Do you have key account salespeople? What about pre-sales or sales engineers?
These are not the only dependencies but aligning internal stakeholders around the answers to these questions can go a long way in laying the foundations for your roadmap.
Step Two: Identify which stages of the sales process are most problematic for your team(s)
Technology can fall into one of five stages of the sales process, sales management, or talent / enablement tools. The next step in building out a viable roadmap begins with identifying the stages where your team struggles the most today. As two examples:
If your sellers need help prioritizing their sales time, then you'll want to focus on "prioritize" solutions that help identify purchase intent or other signals. These solutions include things like lead/list-building, social selling, purchase intent, and lead engagement platforms.
On the other-hand, if you're experiencing low close rates, you might want to focus on "earn" solutions that help quantify value or that cater to specific buyer personas. These would include things like value-selling & ROI, and account & opportunity management solutions.
Based on the unique characteristics of a sales function and its top pain points, we help commercial teams prioritize and phase the introduction of new salestech, using our SalesTech Stack Builder as a starting point. SBI has aligned more than 40 categories of sales tools / tech to these stages, categorizing each in terms of its impact on the sales process and/or sales management.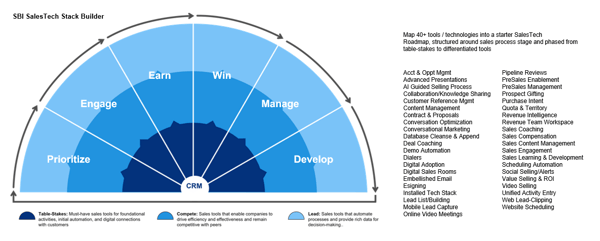 Step Three: Identify practical sequencing for SalesTech implementation
Once you've identified the tools with the greatest potential for your organization, you also need to sequence them appropriately.
We've grouped technologies into three likely stages of implementation starting with technologies we consider to be table-stakes–those that enable foundational activities, initial automation, and digital connections with customers–to those that drive efficiency and effectiveness with automated processes and rich data. Grouping technologies into a recommended order of adoption is not a precise process without a thorough SalesTech roadmap. However, these groupings can serve as general guidelines as you seek to understand what your tech roadmap might look like.
SBI's new SalesTech Stack Builder takes client input to four key questions and then displays top tools to consider at each stage in the sales funnel, with suggested phasing. Using the SalesTech Stack Builder will allow you to:
Frame how you think about your team's SalesTech needs
Compare your current tech stack to what we typically see at peer organizations
Identify and sequence the introduction of new technologies that could enhance your team's performance
Stimulate a conversation within your organization to define a Sales technology strategy
Of course, building a SalesTech strategy and subsequent tech stack roadmap is complicated. SBI's Commercial Tech Practice advisors can help ensure the right technologies are implemented at the right time and for the right reasons. To receive your starter SalesTech Stack and learn more about SBI's SalesTech Roadmap visioning, audit, and planning capabilities, schedule a call with one of our commercial tech experts today.