Research from SBI's 2022 CEO survey indicates that top CEOs are getting crisper on their value creation strategy, evolving that strategy to account for less commercial investment, and determining new productivity levers to still meet growth expectations. Strategic clarity leads top growth CEOs toward a small set of highly focused growth imperatives including placing a premium on commercial productivity to sustain growth.
A crisp value creation strategy requires relentless focus and execution from the top down. CEOs can't go at it alone. Unfortunately, SBI's research shows CEOs are generally lacking confidence and conviction in their growth leadership roles, particularly related to some of the competencies required to drive rapid evolution.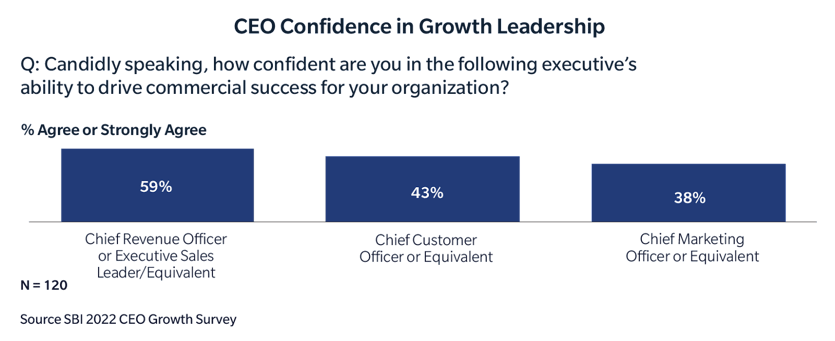 This data is generally concerning, but particularly notable regarding CMOs. Charged with reducing acquisition cost and driving commercial outreach at digital scale, the CMO role is critical as the value creation strategy adapts to more conservative spend. CEO perceptions of CRO (or equivalent leader) capabilities show some glaring deficiencies considering the productivity pivot most organizations are about to embrace.
The deficiencies within commercial leadership identified as having the most impact are strategic visioning, adapting their historical playbook to current conditions, cross-functional partnering, and understanding how technology can drive productivity gains. While these may not be showstoppers, CEOs would be wise to address these blind spots through their revenue operations teams or external support.
While entering a period of economic uncertainty may feel like a difficult time to make key leadership changes, consider if you have the leadership capable of carrying your evolved value-creation strategy forward. Conduct an internal subjective assessment across the executive leadership team with a survey of comprised, standardized questions that are tracked over time, at a certain cadence, and more often as market conditions shift to ensure your prioritization model is aligned across the team. CEOs need leadership who understand how to adapt and execute the strategy if they're going to be successful in the coming 12-18 months.
The growth engine runs better with absolute clarity – even if that clarity feels perhaps premature or panic-inducing. The calm before the storm provides opportunity for CEOs to be fact-driven, purposeful and deliberate in their decisions and reallocation of resources. This level of focus will pay dividends through the forthcoming period of economic uncertainty and create market separation, differentiation, and ultimately enterprise value.
Make the call. Evolve now.