Two weeks ago, SBI hosted our quarterly CEO growth forum. While the firm has hosted this peer connection program for over six years, this meeting was my first time hosting as the CEO of SBI. I felt humbled to be in the company of these go-to-market leaders. This invitation-only group comprises CEOs of varying industries, and I witnessed an assuring juxtaposition. We all agreed that we share similar underlying challenges and opportunities relative to growth.
These forums are always a great reminder to step outside the business and gain new reflection and perspective. It's fascinating to hear the nuances of varying industries with CEOs relative to a range of industries, ownership models, and size. Guests include CEOs from public and private companies with market caps from $750M to $5B in Tech, Business Services, Real Estate, Restaurants, Cybersecurity, and Healthcare. In these forums, I challenge CEOs to not only offer their growth strategy advice but to listen for solutions that, with a bit of adjusting, can be useful for their businesses.

Because the underlying construct of these meetings is to provide a safe space for peers to share challenges and offer value to one another, we keep the insights anonymous. There are no recordings. To be a fly on the wall is a coveted invitation.
What I can share, are a few takeaways and insights relative to the group and what we heard.

1. Currently, CEOs attune to market data and facts on the ground for driving business decisions rather than media recession hype. They are aware, but not overly reactive. The group unanimously agreed that while they are not outright ignoring the economic predictions from official reports or the media, they are no longer making decisions based on them. Instead, they are creating their own assumptions and responses based on facts from their company's indicators and industry peers.
2. In this first part of the year, most demand remains intact, but the sales cycle process has slowed, leading the group to believe these first few months of '23 will set the tone for the remainder of the year. Demand has beaten initial expectations so far, entering 2023. But while demand is still active and pipelines are filling up, sales cycles are slower due to the "wait and see" mindset of the market. ​Most agree that they are postponing major decisions as the quarter plays out.​
3. Cost-cutting is not a growth strategy, but it has become a critical point of contention in this current economic environment. CEOs are taking a measured approach to the start of 2023, maintaining their growth plans keeping contingencies in mind. Responsible cost management is paramount for most - keeping costs flexible by pushing new investments and putting off hiring decisions until at least March or later this year so long as necessary. This strategic attitude reflects an aim not only towards stability but also resilience within organizations today.
4. Margin expansion is predicted to be a key theme for the year.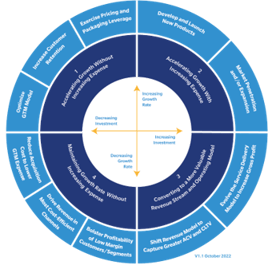 CEOs are shifting to variable costs and pushing new investments further out with cautious optimism. Whille perhaps surprising given the emphasis on margin expansion, acquisitions remain on the mind of CEOs. Some are considering pricing increases to accelerate earnings. The key is to ensure any activity matches the value creation thesis pursued by the organization (graphic on right).
SBI's Value Creation Compass
5. The group was surprised by the high percentage of CEOs in SBI's surveying who expressed neutral to low confidence in their go-to-market leadership teams (charts below). Two likely root causes: today's market is just hard and few can truly manage it, or perhaps more likely, value creation shifts drive a need for new capabilities that make the person in seat no longer the right one. ​

​
Regardless of market conditions, having experienced similar situations, my advice to go-to-market leaders remains steadfast. Remaining committed to growth drivers and driving relentless execution will keep CEOs on their front foot this year.
CEOs should avoid over-committing to a "wait and see" strategy. While agility may feel like a safe bet, it can slow decision-making, obscure focus, and most importantly reduce opportunities to capture value as demand accelerates.​

Now is the time for focus and clarity. Identify your most promising growth bets, and your backup plays, and build your go-to-market engine around those bets. ​

Be declarative about your value creation strategy. Align on the growth levers that must be protected, and even further invested in, to drive value. Ensure tight leadership team alignment on the related expense reduction, protection, and increase priorities. ​

Avoid the temptation of near-term productivity gains to inflect earnings. Cost-out actions often fail to solve for commercial capacity and have a long-term negative impact on sales productivity.
Finally, I came to a realization through this forum that it's not as lonely being the CEO as I or we sometimes might feel. This event was an opportunity for connection and building a growth-minded community. I look forward to following up with this group next quarter and throughout the year to learn what's working, what's not, and valuable trends and insights to share with the SBI community of go-to-market leaders.
I welcome your thoughts and invite you to share your observations with me in a conversation. Click here to connect.