Which b2b trends and tactics are CEOs choosing to accelerate revenue growth? Our research shows a shift to bigger bets, new markets, rapid M&A, and product development.

As we look ahead to 2022, our team is hard at work on a "Top Trends" report that we'll share early in January. Our intent? Sharing key themes and shifts in both growth strategy and growth execution as we consider what 2022 may hold for commercial leaders and their teams.

We're previewing those trends today as our final post of 2021. Happy New Year and see you in 2022.

It's no secret that 2021 has proven a great year for investors. Both US and global markets have experienced strong growth, with deal volume and valuations that rose through the year, and companies consistently beating analyst expectations for revenue growth and earnings. While second half numbers are still pending, per Pitchbook, PE firms closed on 3,708 deals in the first half of 2021 alone, worth a combined $456.6 billion and representing two-thirds the deal value recorded in all of 2020. And the S&P 500 has also outperformed expectations for revenue growth and earnings per share at historical levels.

All of that translated into rising growth expectations for CEOs – a theme that most sources anticipate will continue in 2022 - pushing commercial leaders to deliver higher growth in less time.

With that as a backdrop, here is a sneak peek at five of our top trends for 2022:

1. Growth strategy grounded in bigger, bolder bets: Across 2020 and 2021, companies embraced the idea of 'focus' and relatively safe growth bets, focusing on further penetrating known markets with strong demand. For 2022, our research shows companies shifting to bigger bets, new markets, rapid M&A, and new product / solution development to accelerate their growth runs.

2. Monumental shift in seller leverage: Talent easily represents the top challenge that CEOs and commercial leaders have shared with us across the year, and the chart below shows why. Our research suggests that just over half of seller capacity is at risk going into 2022, between open headcount, attrition, new sellers in-seat, and growth goals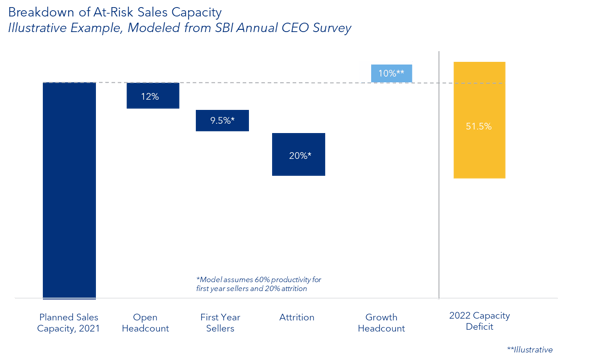 With consistent churn in the labor market and record levels of open roles, companies must address the process by which they bring in new talent and evaluate the employee value proposition they offer. New SBI research suggests that commercial organizations have significant opportunity to improve how they convey many aspects of their employee value prop - both to bring new talent in the door but also keep their existing A-player talent. Stay tuned for much more on this topic in 2022.

3. Digital selling shift from seller enablement to customer enablement. The events of 2020 completely changed how most field sellers navigated their day-to-day responsibilities. Companies shifted sales processes optimized for in-person interaction into Zoom, effectively making every salesperson an inside seller.

But delivering a sales process via online meeting channels is very different from digital selling - which SBI defines as the process for leveraging multiple channels to find, engage, and connect with prospective buyers.

As buyer comfort with digital transacting increases, a recent SBI CEO study showed that high-growth companies are betting much more heavily on digital selling than their peers. In doing so, many are shifting from simply buying new tools and tech to support the seller experience to building new processes that support both buyers and sellers. Companies that have effectively matured their digital selling capability deliver multichannel buying journeys, using technologies such as machine learning and predictive analytics to progress customer education and momentum toward a buying decision.



4. Need for clearly defined growth strategy and a review of commercial fundamentals. As the COVID-19 pandemic has continued across 2021, many conversations have shifted from 'when will things get back to normal' to building for a 'new normal.' However, the new normal must account for a lot more than digital buying and selling.

In today's environment, most companies are navigating constantly shifting talent, rising growth expectations, and in many cases, shifts from legacy business models to SaaS. With constant change (in both players and priorities), commercial leaders must document their growth strategy as a north star for the company – as well as partners and prospective buyers. Across our work in 2021, we also saw a return to foundational elements of growth execution, including:
Implementing an org structure aligned to the strategy
Rethinking territory design to align selling motions and talent to opportunity
Introducing greater discipline to partner selection and management
Aligning sales and marketing beyond just points of handoff to improve revenue outcomes
5. B2B marketing and digital marketing are (finally) becoming synonymous: The pandemic forced many marketing organizations to rebuild their functions from the ground up, shifting the majority of demand gen investment to digital channels, building the operational infrastructure to follow leads through from origination to close, and embracing account-based marketing to improve the efficiency and focus of marketing resources.
But our initial observations here show there's still work to be done. Strong digital and demand skills are hard to find, and many marketing leaders implement ABM tactics without clarifying goals, roles and responsibilities, and aligning with Sales and Success on an account-based strategy.
Stay tuned – as we move into January, we'll introduce our last two trends, supporting data, and detailed recommendations as we ring in 2022.