Tenacious CMOs act confidently and precisely to maintain disciplined data routines and drive commercial productivity. They're getting laser-focused on their ICP and directing investment against accounts and customer segments that meet a refined set of criteria working in tandem with the CRO to drive prioritized growth initiatives.
The challenge for CMOs? It's hard to know where to start and decide what actions will lead to increased productivity - without sacrificing significant commercial opportunity. No one wants to be the CMO that cuts the little-known program that turns out to be an effective, previously unknown growth lever.
SBI has developed a productivity guidance framework for CMOs, distilled from SBI's perspective and recent conversations with Marketing leaders actively driving productivity pivots within their organizations. With this framework, CMOs can identify areas to drive efficiency and successfully lead the productivity pivot within the organization. To access the complete framework, including recommendations, click here.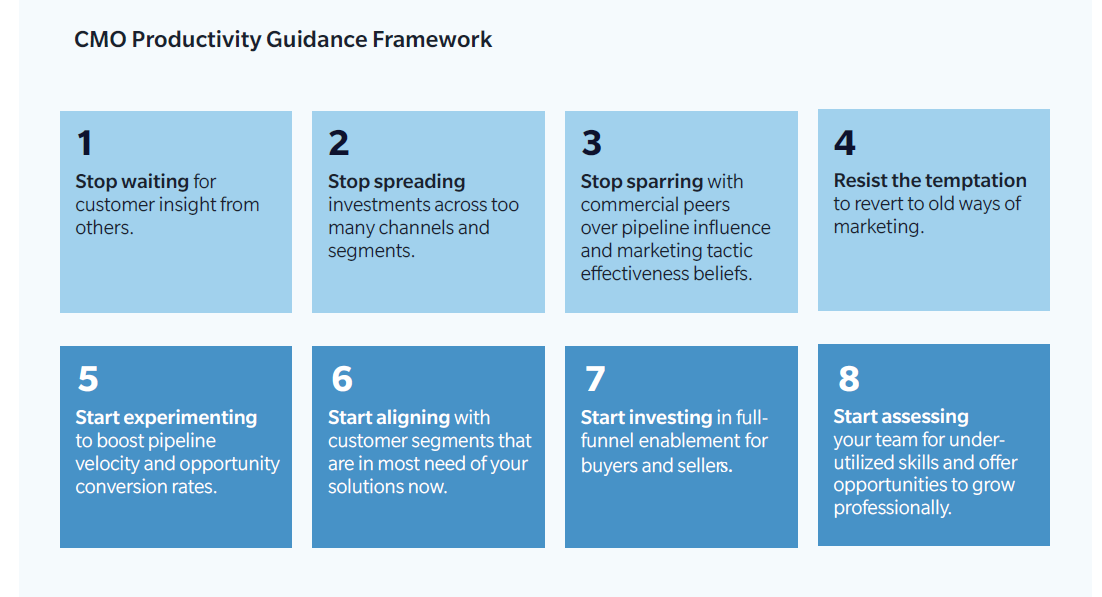 Stop waiting for customer insight from others.

Your customers are shifting, now, as they react to market and economic changes. Instead of focusing on the limitations of your systems of insight, use low-tech but immediate and effective ways to understand your customers better. Channels such as social media, online communities, and industry events are good places to start beyond NPS scores. Take those insights and set up customer calls to understand in greater detail, then you can refine positioning and messaging.





Stop spreading investments across too many channels and segments.

SBI's recent CMO budget and spend benchmarking survey found that marketing programs, paid media, and technology budgets spread investments across all areas with little to no intention of pulling back. CMOs must start making trade-offs or risk spreading investments so thin that ROI is difficult to achieve. Insight from your customer listening will reveal the maximum impact of channels and programs to help narrow down initiatives.





Stop sparring with commercial peers over pipeline influence and marketing tactic effectiveness beliefs.

The survey data shows sales and marketing disagreement over marketing's role in pipeline influence. Instead of debating the effectiveness of tactics and campaigns, CMOs have the opportunity to shift the conversation. Explore shared goals with the CRO and develop a joint point of view on campaigns, definitions of success, and critical metrics.





Resist the temptation to revert to old ways of marketing.

To meet customers when and how they want to engage, CMOs must stay aware of changes in their customers' information-gathering habits and buyer journey. Avoid a herd mentality and do what others are doing; focus on what works best for your customer. It's important to retain the digital muscle developed since the pandemic but push back on the urge to re-invest heavily in more familiar pre-pandemic "marketing-as-usual" strategies - unless your buyer journey warrants it.





Start experimenting to boost pipeline velocity and opportunity conversion rates.

An episodic approach to marketing program effectiveness will lead to a reactive posture in this fast-evolving environment. Instead, create a continual test-and-learn environment where you're making incremental adjustments that, over time, lead to large-scale improvements. In prioritizing related activities, you can stress-test your assumptions showing your commitment to the rigor of ongoing measurement and continuous improvement, refining the revenue engine.





Start aligning with customer segments that are in most need of your solutions now.

Attracting a wide swath of customers will create inefficiencies in areas like demand generation and other top-of-funnel activities. Instead, investigate sub-segments within your customer base, then refine your messaging and content to target these groups.





Start investing in full-funnel enablement for buyers and sellers.

Find and remove barriers that slow buyers and sellers down. When you're looking for greater efficiency, don't forget to look beyond awareness and demand generation to other places across your revenue engine.





Start assessing your team for under-utilized skills and offer opportunities to grow professionally.

Communicate openly to your team the gaps that exist. Give individuals a chance to step up and contribute in new ways. Your refined positioning and segmentation may require new or added skills, especially as you continue to mature your digital programs and motions.
You can't do everything at once, but you must start somewhere. Pick at least one thing from the CMO Productivity Guidance Framework that you can start now – without additional technology and resources – and do it. Then pick another idea and build on that momentum. By acting decisively today, CMOs will realize greater productivity and commercial performance in the face of uncertainty.
Click here to drive rapid growth and review the full results from SBI's CMO Survey.