As a Chief Revenue Officer (CRO), you are responsible for the growth of your company's revenue, and this is no small task. The obstacles you face every day can be daunting, but if you succeed in leading the revenue function of your company, you will have a tremendous impact on its growth. And if you fail, the pain that failure causes can trickle down to customers and prospects. The average tenure of a CRO is merely 19 months. But there is a way to make it past six quarters if CROs are purposeful within their first 100 days in seat. We break down the time frame into two phases:
The first 30 days should be geared towards gaining a fact base and an assessment of the current state and health of your organization's revenue growth direction.
The next 70 days are all about integrating the opportunities discovered in phase one and building your strategic vision and go-to-market motion.
Gaining a Fact Base: The First 30 Days
The first 30 days as CRO will be spent understanding the current state of your organization through assessment. This assessment should include an analysis of existing processes and customer behaviors, identifying any gaps or opportunities for improvement. You will spend time analyzing current customer data to gain insights into what products or services customers are buying and how they interact with your website or sales team. Through this assessment process, you will gain a better understanding of what is working well so that you can continue to build upon those successes as well as identify areas for improvement. Once this assessment is complete, evaluate your team. CROs know that 50% of success is performance conditions and the other 50% is the talent you have. These combined factors from the comprehensive assessment will provide an important foundation for setting goals during phase two.
Depending on the maturity of the organization, resource depth, and understanding of the business, it can be difficult to get an accurate pulse on the business. Through SBI's continual research and engagement with revenue growth executives, the team developed a rapid diagnostic tool to help. The tool serves as a great starting point for understanding what your organization is doing correctly, what areas need refinement, and where the blind spots exist.
Click here to inquire about SBI's Revenue Maturity Model Assessment.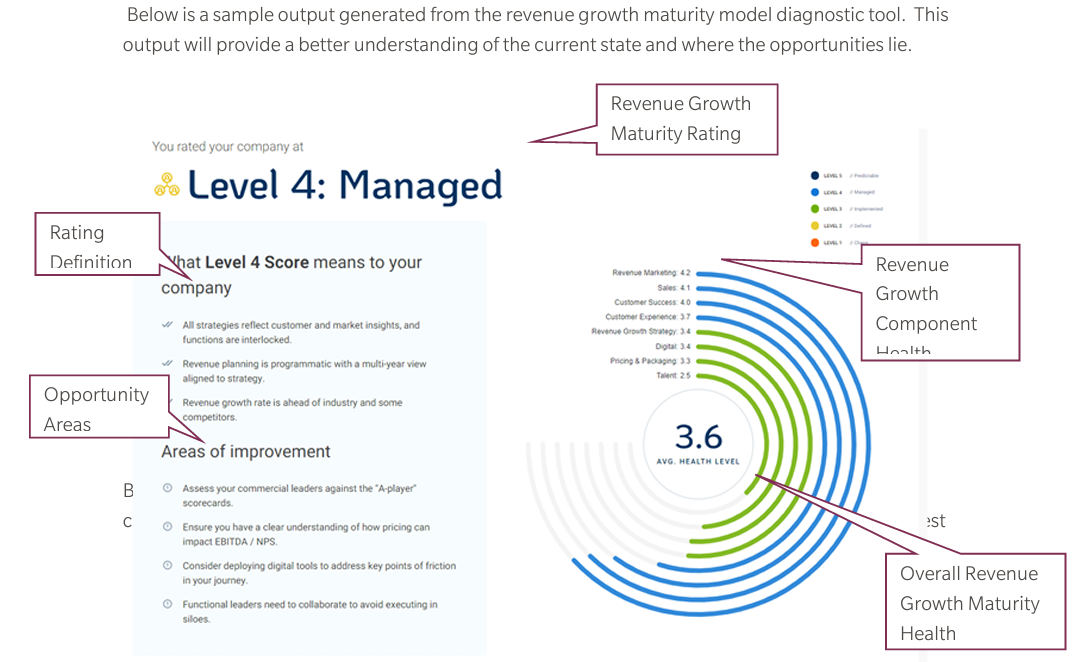 Integrating Opportunities & Building Your Vision: The Next 70 Days
After your first 30 days, you should have a pretty good idea of what your organization is doing well, where the gaps and blind spots are, and, more importantly, where the opportunities exist. It's time to begin building out your strategic vision and go-to-market motion based on the insights gained in phase one. This second phase includes defining a go-to-market strategy, establishing a Revenue Growth Office (RGO), setting sales goals and metrics, interlocking with marketing—the list goes on. By taking these steps during the first 100 days as CRO, you will set yourself up for success throughout your tenure at the company.
Define Your GTM Strategy
A GTM Strategy directs the allocation of people, money, and time to generate profitable growth from the GTM engine while putting the company in the best position to win against the competition. You'll want to establish design principles of your strategy and use a programmatic approach to planning, as opposed to looking at setting the strategy as a project. Too often, we see sales leaders with a set-it-and-forget-it strategy rather than a holistic programmatic approach to planning their strategy.
Establish an RGO
A Revenue Growth Office (RGO) is an internal cross-functional and independent team that is tasked with ensuring the success of key revenue growth initiatives. This is similar to how a PMO is used to manage projects across the organization. A Revenue Growth Office focus is on the transformational change needed to drive a step-level improvement in revenue generation. This is not intended to be used for incremental changes, but as a key tool in ensuring the execution of the revenue plans.
Set Sales Goals & Metrics
Setting goals and metrics gives sales leaders the opportunity to work with Revenue Operations to review and validate their number. CROs will also ensure the unification of one fact base across functions like marketing and customer success. Once the fact base has been established, they can inventory potential bets and decide which ones to place based on the level of effort and time to realization.
Interlock with Marketing
Establishing an interlock between sales and marketing is a critical consideration for every customer-centric organization. Not only does it drive business efficiency and productivity, but it is critical to delivering a consistent and high-quality customer experience across the customer journey. When sales and marketing are interlocked, both departments and the overall organization thrive. Marketing works to grow the top of the funnel and pass on qualified leads to sales who can be much more efficient.
With careful planning and thoughtful execution during your first 100 days as CRO, you can make great strides toward achieving success at your organization. By gaining important insights through comprehensive assessments, you'll have a stronger capability of integrating those opportunities into strategies, clearly define revenue growth levers, and move toward long-term growth beyond six quarters.
Drive accelerated growth with SBI's complete CRO Success Guide. Click here.