The beginning of 2023 marked the start of more conservative spending for CEOs, which is likely to continue until the year ends. But expense management is only one part of the equation: leaders must look elsewhere if they want to hit their financial targets. Based on SBI's survey data, revising how productive their go-to-market (GTM) teams are and finding solutions to raise that benchmark is what's going to make the difference here.
In the second of our four-part series on the CEO Value Creation Pulse, we go over findings that focus on how CEOs and other leaders are planning for value creation, and what insights you need to get ahead in 2024.
Lower spending and lower productivity means lower returns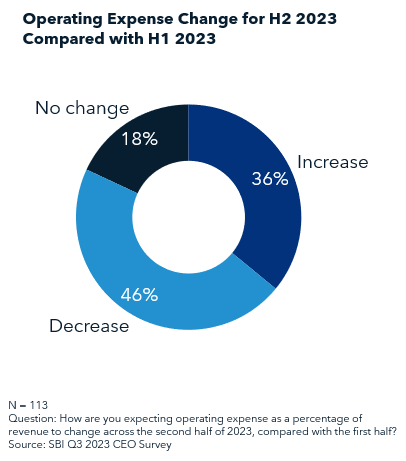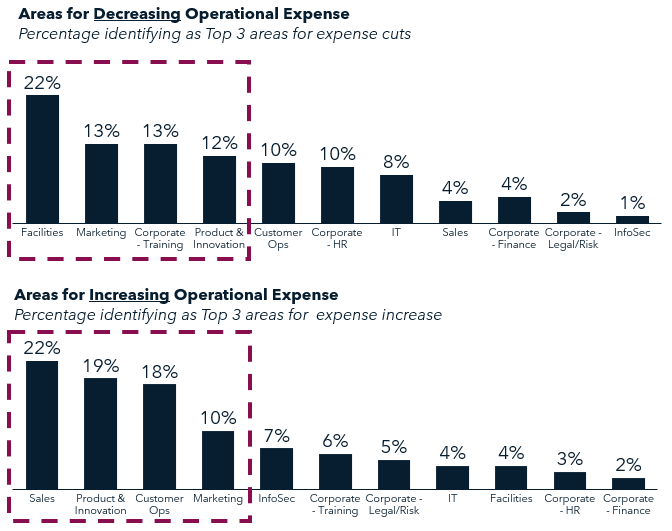 Based on our survey findings, the majority of CEOs reported going in more conservative directions in their 2023 expenditure. 46% reduced their operating expenses in the second half of this year, with another 18% maintaining their current spending.
Worryingly, we can observe similar patterns when it comes to seller productivity, as reported by CEOs—69% reported productivity to be stagnant or worse when compared to the previous quarter. With both spending and productivity down, companies are highly unlikely to achieve the sort of margins they might be hoping for.
Since the plan moving forward is to spend less, the logical move to ensure that CEOs can continue to make meaningful progress toward their financial targets is to look at the other half of the puzzle—improving commercial productivity to maximize the value you get out of your limited resources.
This can be done by assessing and actively seeking out redundancies in activity across commercial teams and time spend. Some leaders may need to resort to making difficult decisions to swap out unproductive team members in the process, now that we're in a buyer's market for talent.
Some areas of operations are typically first on the chopping block whenever expense cuts become inevitable. Among the CEOs we surveyed, Facilities, Marketing, Training, as well as Product and Innovation were the top areas identified for expense cuts. However, CEOs may want to reconsider reducing their marketing spend.
In the previous chapter of this report, the findings indicated softening pipelines as a result of market instability. This is where strategies like account-based marketing (ABM) and targeted top-of-funnel (TOFU) marketing can be more effective in stimulating pipeline movement, giving companies the potential for a strong start in 2024.
Generative AI holds potential for productivity gains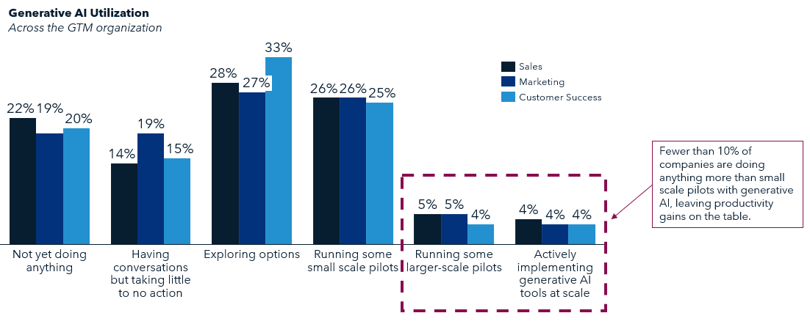 Now that it is clear to companies that commercial productivity should be prioritized, leaders may also want to consider the integration of generative AI into their GTM processes as a force multiplier. But when surveyed on what CEOs were presently doing when it came to using generative AI, most had yet to take action or do anything beyond small-scale pilots. In fact, fewer than 10% had scaled the integration of generative AI into processes across Sales, Marketing, and Customer Success.
To be able to reap the productivity gains of using generative AI, however, leaders need to do more than just give high level guidance. Integrating generative AI usage requires detailed playbooks with clear use cases, guardrails on common pitfalls to avoid, guidelines on effective prompt engineering and more before CEOs can see the efficiency returns. Commercial teams should also update their AI playbook regularly based on evolving knowledge to ensure they are on top of AI best practices for peak productivity.
Key takeaways to drive productivity gains in 2024
While managing EBITDA will continue to be the prevailing GTM strategy for the time being, CEOs should not neglect ideas that can help them drive true commercial productivity. To recap on what business leaders can do going into 2024:
Drive commercial productivity by seeking out redundancies in commercial team time spend and remove unproductive talent.
Allocate resources strategically so that Marketing can drive movement in softened pipelines through ABM and targeted TOFU activity.
Build and maintain detailed playbooks on using generative AI to effectively help GTM teams be more efficient in applicable use cases.
Discover the other three trends and more insights in the SBI CEO Value Creation Pulse, Q3 2023, which is now available for download. Read the research here.