Organizations face sales productivity concerns, with pressure mounting due to buyer uncertainty in a sideways market, a renewed focus on earnings over growth, and owners and shareholders hungry for good news. Almost daily, we hear reports of layoffs, especially in technology companies, and an emergence of a new crop of commercial talent heading to new organizations. And the remaining sales reps, veteran or new, are expected to do more with less adding more pressure on the new rep to drive value effectively and immediately.
So how do organizations accelerate the ramp time to productivity for new hires?
For new hires to realize their full potential and become fruitful teammates, organizations must proactively onboard them into the organization. While nearly one-third of leaders worry that their inability to hire will harm 2023 growth, only 14% have faith in their organization's ability to successfully onboard new hires. This goes directly against the growth imperative of minimizing new hire ramp time to drive value for the company through deal wins.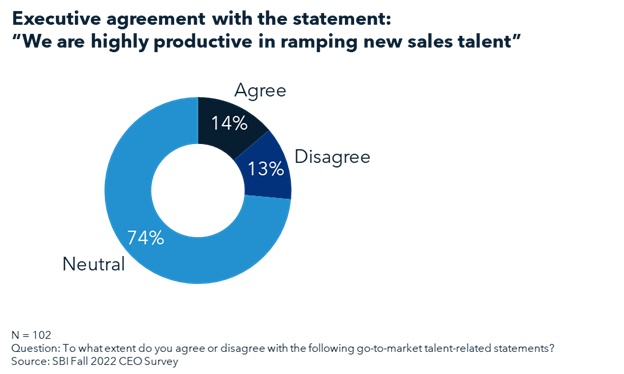 Implementing a comprehensive onboarding program is rarely a high priority for go-to-market leadership teams. But shortcomings with onboarding new Sales hires are a significant risk to your growth strategy.
Aligning onboarding learning objectives with clear, specific metrics that are tied to business outcomes, rather than vague progress reports without context to the business, can anchor an onboarding program in reality and demonstrate the value of the program. SBI's benchmark for a best-in-class onboarding program that can drive new seller value is 90 days plus the average sales cycle within the organization.
A best-in-class program has four components:
Assessing competencies and proficiencies

to determine where focus is needed.
Creating 30/60/90-day onboarding plans that anchor outcomes at each interval to core competencies of the organization.
Scheduling weekly onboarding activities that drive toward achieving competency certifications that validate learning.
Implementing a "Learn-watch-do-reinforce" framework that allows new hires to gather feedback and coaching throughout the process.
Time to value is of the essence in any market but is further illuminated in down markets and economic uncertainty.
Getting more out of less is how top-tier companies outpace the rest. If you have varying degrees of sales talent or an influx of new talent, you must be prepared to bring everyone up to speed quickly and effectively. Your growth depends on it.
Looking for a way to maximize revenue growth? Uplevel your onboarding program with access to SBI templates, tools, and advisors Click here to learn how SBI can help you create a strategy that boosts sales productivity.
Bonus Tool: Cost of Sales Rep Turnover Calculator
Every empty sales rep position is an opportunity cost for a business in terms of lost revenue and missed targets. It's essential to act quickly when turnover occurs so that teams can stay on track toward their revenue growth plan. Use this turnover calculator, to evaluate the total cost of replacing a sales rep for both an internal and external hire.